Addressable Led Strip
Our product ranges are designed for led neon flex wholesale, engineering projects, lighting design, and structure decoration.
Previous
Next
Addressable Led Strip
Ginde Star is among the best LED pixel light manufacturers in China that supplies wholesale high-quality intelligent RGB LED strips in bulk.
With more than 6 years of experience in manufacturing different types of LED lights, we can provide you with eco-friendly and customizable lighting solutions that exceed industry standards.
Choosing Ginde Star as your addressable LED strip manufacturer and supplier will help you create innovative lighting projects that exactly match your requirements. Feel free to contact us for your specific needs.
Product Specifications of Cob LED Strips
Featured Models
Custom Options
Product Features & Benefits
Featured Models
Model Name
#1 pixel led strip
#2 pixel led strip
Color
Pixel RGB
Pixel RGB
Cutting Units
3LEDs/ 5cm; 6LEDs/10cm
6LEDs/6.25cm
PCB Wide (Min.)
6mm/8mm/10mm
6mm/8mm/10mm
LED Light
SMD5050
SMD5050
LED Qty
60LEDs/m
96LEDs/m
Voltage
DC12/24V
DC12/24V
Power Consumption
14.4W/m
23W/m
CRI
90Ra/80Ra
90Ra/80Ra
Beam Angle
160°
160°
Bending Direction
Vertical/Horizontal
Vertical/Horizontal
Light Attenuation Degree
Working 1000 hours < 3%
Working 3000 hours < 5%
Working 1000 hours < 3%
Working 3000 hours < 5%
Thermal Resistance (Tr)
< 0.08~0.1℃/W
< 0.08~0.1℃/W
Thermal Management
Cool Touch Free Air Convection
Cool Touch Free Air Convection
Custom Options
| | |
| --- | --- |
| Strip Length | Max. 10m/roll |
| Input Voltage | 5V DC/ 12V DC/24V DC |
| Color Temperature | White/RGB/RGBW |
| LED qty | 60LEDs/m, 70LEDs/m,84leds/m,98LEDs/m |
| PCB Wide | 10mm/12mm |
| IC type | P943/P9412/DMX512 |
Product Features & Benefits
We offer the following RGB individually addressable LED strips:
No. of LEDs: 60 LEDs/m, 90 LEDs/m
Operating Voltage: DC 12V, DC 24V
Power Consumption: 14.4 W/m, 23 W/m
Cutting Units: 3 LEDs/5 cm, 6 LEDs/10 cm, 6 LEDs/6.25 cm
Contact us for your special requirements so we can customize our LED strip lights according to your lighting project's specific requirements. Our experts will help you in creating your ideal strip lights.
Why Choose Individually Addressable LED Strips
Our waterproof addressable RGB LED strips produce high-density lights and have individually controlled LEDs. They are perfect in creating multi-colored lighting projects using a single type of programmable LED strip.
Waterproof
You can install our addressable LED strip lights outdoors because they are waterproof. They have a waterproof protection rating of IP65/IP67.
High-Density
Pixel LED strip lights produce high-density lights that can be clearly seen even from far distances. They have focused lights that are perfect for highlighting structures.
High-Power
Smart RGB LED strips are high-power LEDs that produce very bright lights. Even with their small sizes, they can effectively light up dark areas.
Individually-Controlled
Programmable LED strip lights can produce multiple colors in one strip because each LED can be individually controlled. If you want colorful lights, these are perfect for you.

Applications of Pixel LED Strip
Ginde Star's pixel strips can be used in any application because they are controllable, flexible, and they come in a wide variety of lengths. Moreover, they are perfect for lighting projects that aim to create images in the air.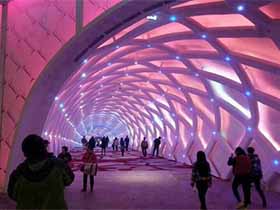 Architectural Lighting
Pixel LED tapes are ideal for enhancing the atmosphere in architecture. From simple to complicated lighting projects, these lights can produce awesome and unique effects to make any architecture stand-out.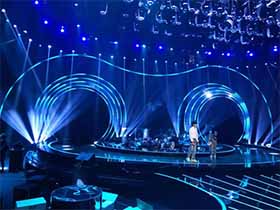 Commercial Lighting
You can use RGB digital LED strip lights to create signages and highlight certain structures in stores, offices, auditoriums, museums, and others. They help attract more customers.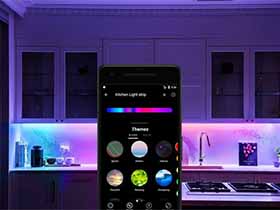 Residential Lighting
Do you want to add a little life to your dull home during the holidays and special events? You can install individually-controlled LED strip lights in your kitchen, bathroom, hallway, and others.

Customize Your Addressable Led Strip

More Led Strip Products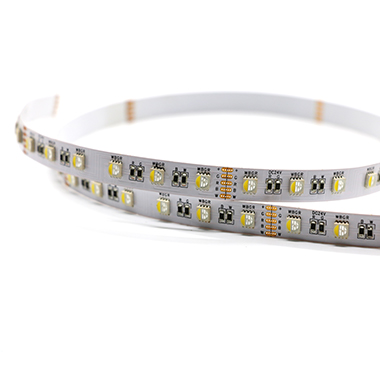 RGBW LED Strip
RGBWW LED Strips
COB LED Strips
CCT LED Strips
RGB LED Strip Lights
Contents
What is RGB Pixel Strip
RGB Pixel strip lights are types of color-changing LED lighting options that you can program. They allow you to have full control over the strip's individual LEDs. However, not all LEDs in RGB pixel strips can be individually controlled.
Some manufacturers make pixel strips with controllable groups of LEDs instead of individual LEDs. This control level allows pixel lights to produce dazzling lighting patterns and effects, including videos. Whatever level of control you need, Ginde Star can customize your RGB pixel strips for you.
How Do Addressable LED Strips Work
Below are the key points on how Ginde Star's addressable LED strips work:
They use direct current as power sources and have operating voltages of either 5 V, 12 V, or 24 V, depending on the strip.
They usually use SMD 5050 LEDs that can produce Red, Green, and Blue lights.
All of the LEDs (or groups of LEDs) in pixel lights have dedicated integrated circuit chips inside that can store commands.
The individual chips allow you to control each LED/group of LEDs using a microcontroller to produce different colors.
Difference Between RGB LED Strip and Pixel RGB LED Strip
Difference Between RGB LED Strip and Pixel RGB LED Strip
.
Pixel RGB LED Strip
RGB LED Strip
Lighting Perspective
Perfect for creating 3D lighting effects such as flame, comet, rainbow, sunset, and others
Can only produce 2D lighting effects
Colors
Each LED or group of LEDs can be controlled using a digital LED controller to produce different colors at the same time
Cannot be controlled. They can only produce one color at the same time
Controller
They have different controllers. Some only have data channels while others both have data and clock channels
The strip's RGB pins are connected to the controller's RGB pins in a straightforward manner
How to Choose the Right Type of Intelligent RGB LED Strip?
Choosing the right pixel strip for your project is important to ensure that you get the results that you really want. Whether you are an interior designer, wholesaler, engineer, and others, you need to know how to properly choose a pixel LED strip light. Below are a few of the things that you need to consider:
Pixel Density
Pixel LED strip lights have different numbers of LEDs per meter. If you want a more focused light, choose one that has more LEDs per meter. Ginde Star has 60 LEDs/meter and 90 LEDs/meter pixel strips.
Power Supply
Pixel lights have different voltage requirements (5V, 12V, and 24V). Choose a pixel light with a power requirement that you can manage.
Waterproof Rating
For the waterproof rating, you have 2 options: IP65 and IP67. IP65-rated pixel lights are coated with flexible clear silicones that can keep dust and water out but you cannot submerge them in water. But, they are rainproof and splashproof. If you want more waterproofing, IP67-rated pixel lights would be ideal. However, they are harder to cut into lengths.
Ginde Star provides different pixel densities, voltage requirements, and waterproof rating options for you to choose from.
Power Supply: 5V vs 12v vs 24v Addressable LED Strip
The more voltage an addressable LED strip needs, the more powerful the lights it can produce. Below are the key differences between 5-V, 12V, and 24-V addressable LED strips:
.
5V Addressable LED Strip
12V Addressable LED Strip
24V Addressable LED strip
Voltage Drop
Voltage drop is a significant limiting factor. It is not ideal for long strips because the LEDs at the end of the strip will have lower brightness.
They can overcome the voltage drop limitation because they can provide additional overhead compared to 5-V pixel lights.
They can handle longer strips without the issue of voltage drops.
Wiring Costs
If you want longer lengths, you need to use a lot of power wires to reduce the voltage drop which can be expensive
You don't need a lot of extra wiring to create longer strips.
Ideal for large lighting projects because they can save a lot on wiring costs.
Efficiency
They are the most power-efficient systems because they have low power requirements.
They are more than 2x less power efficient compared to 5-V systems but are ideal for medium projects.
Although they have the most power requirement to operate, 24-V lighting systems can be efficient in very large projects.
Ginde Star offers 12V and 24V addressable LED strip lights to ensure efficiency and prevent voltage drops as well as reduce your wiring costs.
IC LED Chips: WS2811 vs WS2812 vs WS2812b Addressable LED Strip
IC (Integrated Circuit) Chips allow digital LED strips, such as addressable LED strips, allow you to control individual LEDs or sections of LEDs in the strip. The type of chip an addressable LED strip has will affect the efficiency of the strip. Below is a comparison between WS2811, WS2812, and WS2812b IC chips:
.
WS2811 Addressable LED Strip
WS2812 Addressable LED Strip
WS2812b Addressable LED Strip
IC
External IC
Built-in IC
Built-in IC
Wires
3 Output + Positive + Ground
+Single Data line
2 Positive + Negative
+Single Data line + NC Pin
Positive + Negative
+Single Data line
Pins
8 pins
6 pins
4 pins
Voltage
DC 12V
DC 5V
DC 5V
Color
RGB
RGB
RGB
Diodes
30 or 60 per meter
30, 60, 74, 96 or 144 pixels per meter
30, 60, 74, 96 or 144 pixels per meter
WS2812B is an improved chip based on WS2812. Their main difference is that WS2812B has lesser pins which provide many advantages:
Reduced chances of short-circuiting
Better heat dissipation which prevents overheating
Has reverse connect protection
More efficiency and stability
WS2811has the most number of pins and has a higher operating voltage which makes it the least efficient one. Plus, it can only have a maximum of 60 LEDs per meter.
Ginde Star can customize addressable LED strips to use the IC LED chip you want to match your needs.
LED Types: SMD 5050 Digital LED Strip VS SMD 3528 Digital LED Strip
Digital LED strips use different LEDs. Two of the most common LEDs are SMD 5050 and SMD 3528. Here are the differences between digital LED strips using SMD 5050 and SMD 3528 LEDs:
.
SMD 5050 Digital LED Strip
SMD 3528 Digital LED Strip
LED Dimensions
5mm x 5mm
3.5mm x 2.8mm
LED Diodes
3 Diodes in one housing (tri-chip)
1 diode per LED
Brightness
Brighter compared to SMD 3528 (3x light output compared to 3528 strips)
Individual chips might not be as bright as 5050 chips but they can be brighter when used in higher quantities
Heat Production
Produces more heat
Since they have smaller chips, they produce less heat
Colors
They can produce millions of color variations per LED
Can only produce one light color per LED
Ginde Star's addressable LED strips use SMD 5050 chips so you will have millions of bright light color choices.
Highly Cost-effective
LED Neon Flex for Your Project.