Best PC RGB LED Strips: A Beginner's Guide to PC Lighting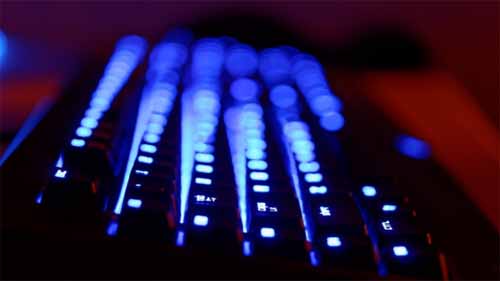 I know the one question in your head right now is, why would I put RGB LEDs on my PC? Here's the thing with LED strip lights; their daily life applications are only limited by your imagination. They can be used on anything imaginable. PC gamers will understand the impact of LED lights on the PC better as they transform the gaming dynamics to a level that you cannot begin to imagine.
We are going to look at some of the best RGB LED lights from the best LED suppliers that you can have on and in your PC, the purpose they serve, and how to install them if you get the chance.
Top TGB LED Strips for PCs
There are many brands in the market, and each claims to be the best; we are going to dive deep to see what some of them have to offer. The following are the most notable PC strip lights.
Alitove Waterproof RGB LED Strip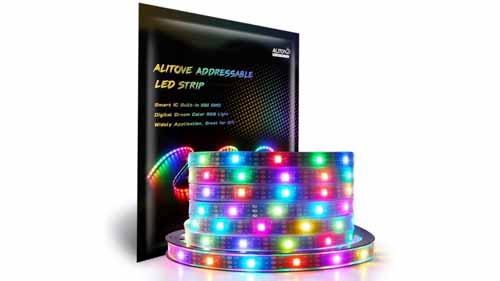 The Alitove is an addressable LED 5050 strip that delivers an amazing 24-bit color display when turned on. They have a 50,000-hour lifespan and can be installed easily on top of being pre-programmed to display all colors combined with animations of all kinds, all of them customizable. The LEDs are cased inside a silicone sheath that protects them from water and dust, and this is one of the reasons why gaming companies love installing them into PCs.
Other notable features include their flexibility as they can be bent to some degree without sustaining any damage; this allows you to bend them around things easily for better effects. The Alitove comes with an installation kit that contains five silicone clips and ten tiny screws to ease the setup.
Corsair iCue Lighting Node PRO RGB Strip Lights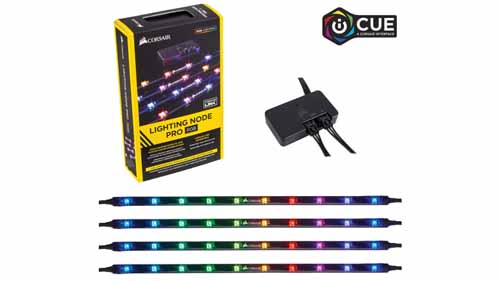 Corsair has been involved in making PC parts for years, especially for gaming machines. It is therefore not a surprise that they have also ventured into the strip lights business to make unique products for people who use their wares. The Corsair iCue is a lighting marble. First, they are magnetic, which means installing them is very easy, no need for cumbersome sticky adhesives that leave marks on your PC. You simply stick them on a metallic surface, and they stare there.
And if that is not enough, to have it working in seconds, you simply plug it into the USB port on your PC, which will be followed by an installation prompt on your screen, and that's all it takes. The strip allows for control of up to 12 RGB LED strips of light, which is a good number that gives you a wide range of options.
The kit comes with 4 RGB light strips, ten cables, and a set of in-built magnets.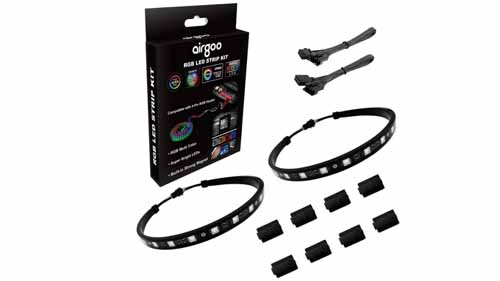 The Airgoo, unlike other competitors, chose to design their lights to be used on the OPC motherboard as opposed to an external setup. The lights are compatible with Asrock RB LED, Asus Aura, MSI Mystic Light, and Gigabyte RGB Fusion, among many others. The Airgoo lights make use of high-grade silicon tubes for maximum protection from the elements and to also make them have a uniform appearance.
The lifespan of the Airgoo RGB LEDs is about 10,000 hours, which is a little below the standard but still enough to last you long enough to enjoy them. They also use magnetic strips to stay in place, which is a better option than adhesives.
The lights are bright and colorful, which makes gaming even more fun as they are also able to respond to sounds. The kit comes with two strips of light, a 20-inch cord, a 12V four-pin cable, and eight pieces of magnetic clips.
GindestarLED Neon Flex RGBW Strips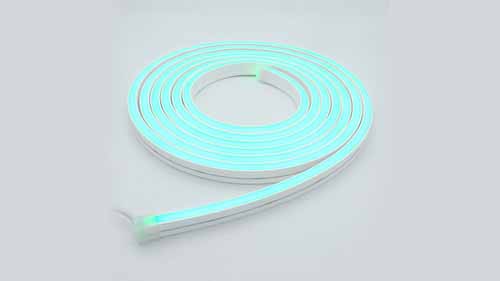 Gindestar has a wide range of LED lights that are used in homes, business establishments, buildings and many other places. It is therefore not a surprise that they have RGB LED strips that can be used on PCs and other electronics in the house.
The LED Neon Flex RGBW is one of their best products that is enclosed inside a silicone case to protect it from weather elements and dust. The casing is transparent to allow the lights to shine through as expected and they have a sticky adhesive side that allows you to install them on any surface of the PC.
The LED strip contains very powerful SMD LED chips whose brightness can be controlled at will
Deepcool TGB PRO LED Strip Lights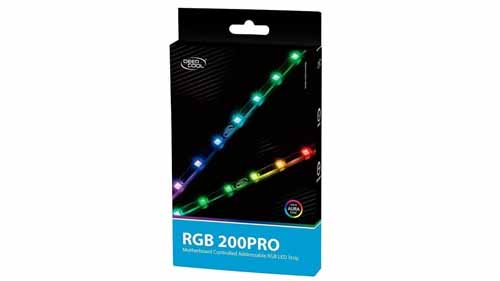 The Deepcool comes with addressable LED lights that can be used on your company and other accessories, including the monitor and audio speakers. They come with a 5V three-pin header that lets you control the lights as you see fit; this eliminates the need for any other type of controller as this one is pre-programmed to work with the lights.
You can synchronize the lighting animations to the sound being produced from the computer, and this enhances the experience of watching a movie or playing a game.  They have in-built magnets for easy attachment to the surface of the computer or any other metallic surface that can work.
In case your computer lacks a metallic surface, and you can't find any nearby, the light strips are double-sided, with one side having an adhesives layer, which you can use instead.
Where to Install RGB LED Strips on PC
There are many places on the pc that the lights can be installed, depending on the function and what you want to achieve with them. Some of the most common places include the following.
The Monitor: You can set the lights behind the PC monitor to have them display different colors against the wall behind them. This could give the room a cool ambient look when you switch off the main lights.
The Motherboard: This works best for desktops that have a clear glass covering to give you a good view of what's happening with the lights inside. Many Gaming PC makers these days actually incorporate motherboards that support this feature.
Casing: The casing of the PC can also accommodate LED strip lights, especially the magnetic ones, since most cases are crafted out of metallic materials.
Getting the right RGB LED strips for your PC may be complicated due to the high number of them that exist in the market. It is easy to be sidetracked, and you may end up getting something that may not work as you imagined it. To help you get the best on, here is a quick LED buying guide.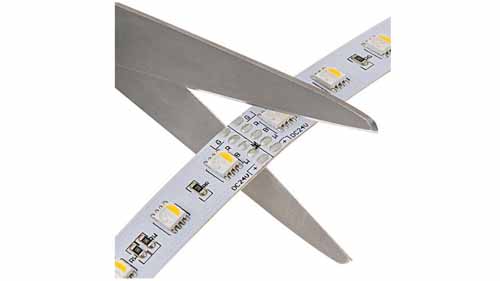 The length of the strip is important; the longer it is, the more things you can do with it. The variants in the market usually range from 1m, 2m to 400mm. The 2m variant is the one that is mostly sought by people as it is the perfect length, not too short or too long. You could also cut the strips down to suit your creative needs as you see fit.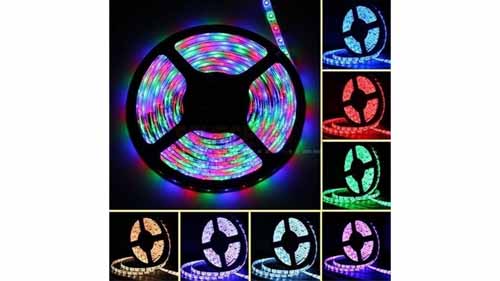 Color variations are the main reason why people go for RGB LED lights for their PCs in the first place. It is the allure of your house turning into a rainbow at night when playing your favorite game that drives interest in these products. The more the color options, the better the strip. Common ones have 12 color options, but if you can find one with more, then don't hesitate to go for it.
The ability to adjust how the lights operate is also crucial as it gives you more ys to set them up to avoid being stuck with one boring pattern. Customized LEDs are the best when it comes to adjustability, they can be dimmed or brightened up, can be sped up or slowed down, it all comes down to what you want to do with them, and the possibilities are unlimited.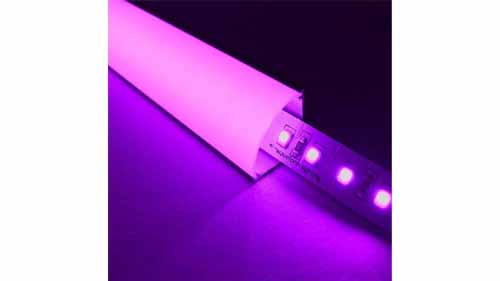 The lifespan of the strip lights is another factor that needs your attention. You don't want to buy something that will die on you after a month, which could end up being costly. Most LED strips have a lifespan of about 50,000 hours, but anything above 10,000 hours is still ideal for you.
There are many interesting things about RGB LED lights, the things that you can do with RGB lights are unlimited, and if you have a PC in your house, it is time you did something about spicing it up with some colorful displays. There are other reputable PC lights in the market that you can check out.
If you have any concerns about RGB LED installations for your PC, feel free to check out our website at any time, and we will be ready to answer any questions you may have.